Boston Marathon Tragedy: When Explosions Hit Our TV Screens
April 15, 2013

Posted by admin

under

Musings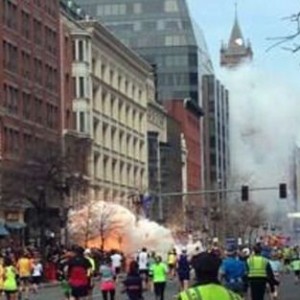 Like many people, I've been following the coverage of the explosions at the Boston Marathon. I keep hearing the word "terrorist" and I cringe because despite the fact that the term could apply to anyone, Americans often associate it with "foreign" people.
Since 9/11, our response to "terrorism" targeting us has been one of blood lust. We have excused the use of torture, night raids (often resulting in murders), bombs, missiles and most recently, drones firing these missiles upon civilians because we're so afraid of being hit again.
In many ways, it's easy to feel disconnected from this violence because the US media doesn't force us to look at it on a daily basis.
As someone who works in a newsroom, I have access to the CNN Wire and I see stories of bombs and drone strikes killing and maiming more people than were hurt in today's tragedy at least a few times a week. However, there are no pictures. The stories don't give any humanity to the victims. Often, they're no more than five or six sentence summaries of the body count.
As every news channel and even ESPN halts its coverage to interview people on the ground, I can't help but wonder what someone in Pakistan or Afghanistan is thinking as they see this story scroll across their news source. As horrible as it may sound, I wonder if some are yawning or even raising an eyebrow at all.
As I look at how so many people in Boston, as well as around the country, are visibly and understandably shaken, I wonder if this will make people look at aggressions abroad more critically.
The horror of a bomb attack is all over our televisions. The ambulances. The screams. The tears.
No infographic on drone strikes in Pakistan could illustrate the effects of this violence as well as these visuals.
All I can hope when I see the pain and fear splashing across my television is that if the perpetrators are, in fact, foreign "terrorists," that we don't respond in kind. No matter what has been done to us, no neighborhood, town, village, or any other locality deserves this.
Even though many Americans have cheered on the perpetration of these tragedies throughout the world, I honestly believe they don't visualize that this is the destruction we're causing.
Look at video of the Boston Marathon explosion and then watch "Collateral Murder" on Wikileaks. Read stories about the death and destruction of drone strikes and suicide bombings. Think about the pain these communities go through following these tragedies. Not just those killed, but their families. All of the citizens who have permanent post traumatic stress disorder. All of the people who live every day of their lives in fear because they have no idea if the killing machine in the sky is going to come back.
Who knows when we'll find out who perpetrated this attack? Instead of speculating and plotting vengeance, we should take this time to reflect on this and all the other similar tragedies that are happening daily throughout the world. If there were ever a time to push back against this violence, it's now.