Community Building is Revolutionary
May 20, 2013

Posted by admin

under

Musings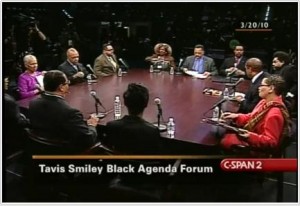 Last week I took the opportunity to attend the PAALF (Portland African American Leadership Forum) intergenerational forum. Whenever Black people get together to talk, skeptics ask questions like, "Why? What's the point? What are you actually going to get accomplished?"
People have no shortage of excuses for passing up these events. They will focus on every problem that won't get solved instead of looking at what they could gain.
These events are about networking. The goal is to build relationships. None of the community's problems will get solved until there is some unity. Community building, in itself, is revolutionary.
While the conversation at the intergenerational forum was enriching, what I really got out of the event was meeting other Black people in different fields. I got to connect with elders, tradespeople, businesspeople, politicians, activists and any other field you could imagine.
Who knows what these connections might yield in the future? At the least, we helped eliminate the tensions and distrust that Black people often have towards each other because of slave era conditioning. At best, we could've planted the seeds for partnerships in the future.
The common theme in any workshop or discussion I've attended on getting jobs is that the key is to build relationships. You'll never know what people could offer you if you don't meet them. There's an African proverb that goes, "When spider webs unite, they can tie up a lion."
This is why I have a lot of respect for Chappelle's Show and Snoop Dogg's GGN podcast from a movement perspective. Besides entertainment, Chappelle and Snoop illustrated economic empowerment. These men used their gifts to build careers and then created vehicles that helped give jobs and/or promote other Black people and broadcast them to a larger consumer base that they might not have had access to otherwise.
As a writer at a Black-owned newspaper, I see this at a local level. For example, one of the first assignments I covered was the Journey to Freedom Teaching with a Purpose Conference. What I noticed at this event and subsequent JTF functions I covered was that the founder, Karanja Crews, got educators and lesser known local artists and gave them the opportunity to speak and/or perform. Consequently, they would spread their brand to new audiences. Even I, as a reporter, got the opportunity for more exposure by meeting people I could potentially profile in future stories. One interview I did with Stic.man from Dead Prez was not only popular in my paper, The Skanner, but also got picked up and re-printed in the Oregonian. While the information shared at these events was important, it was really about being there and planting seeds.
No matter what your field is, you're more likely to patronize a person's business or work with them if you have a relationship. Considering the need for economic self-determination in the Black community, building these relationships couldn't be more pertinent.
When we don't know the owner of the family owned beauty shop, we end up shopping at Walgreens, even though stores like the one on 122nd and Glisan were caught locking up the Black beauty products and forcing customers who wanted to by them to walk to the counter with escorts like little children.
We need business owners that look like us and we can interact with on a daily basis. We need their profits and tax dollars to flow back into our communities. We need to know they can be held accountable because they have to see us.
Our business owners need us, as consumers, to support them. They need our feedback so they can best serve us. They need our spending. These businesses can't have competitive prices if they don't have a large enough consumer base. Black people are still the tastemakers and trendsetters throughout the world. Where we go is where others go. What we wear is what others wear. If we support our own then others will follow us.
If we know each other then we can serve each other instead of begging these stores we don't own to treat us with dignity.
As a shy person, I never used to understand the point of saying "Hello" to random Black people on the street. As I've gotten older, I've come to realize these are community-building opportunities. Whether on the sidewalk, in a store or at formal gatherings, we have to make the effort to network with each other. No one is going to solve our problems but us. Use every resource possible. You lose nothing by attempting to gain access to these resources but you have no idea how much you're losing when you don't try.