American Promise and Progressive Pimpology
December 18, 2013

Posted by admin

under

Musings
What was my biggest takeaway from "American Promise?" You can hate the player but you can't hate the game.
The movie follows two Black boys, Idris and Seun, for 13 years as they navigate a social experiment, which placed them in Dalton, a prestigious, predominantly white school.

It was shown to a packed Hollywood Theater and generated another half hour or so of discussion afterwards. Amongst the talk of parents pushing too hard and systemic racism, only one person questioned the ethics of filming children during all of their formative years. And then, a little later, it hit me.
I'd been pimped.
That was child exploitation. And not just did I go to see it, I participated in the dialogue, and promoted it weeks prior.
It was bad enough that Idris and Seun went through hell in Dalton. That Idris' parents pushed to probe them during the often-painful social experiment only exacerbated the problems with the poorly defined goal of social climbing. Furthermore, this apparently isn't even the first film Idris' parents, Michele Stephenson and Joe Brewster, produced, focusing on their child. Stephenson is an award-winning filmmaker and noted social justice figure. Brewster is a psychiatrist.
True, the film didn't paint the documentarian parents in the best light but what does it matter? If you can pack theaters and get speaking engagements, all while continuing to build on your personal brand, that's what it's all about. Who cares if you forced your child to be filmed while he struggled with "tiger parenting," all without ever stopping to find out what his actual passions were?
"American Promise" actually started out with five children, but three girls dropped out. Seun even dropped out for a while after tragedy struck his family.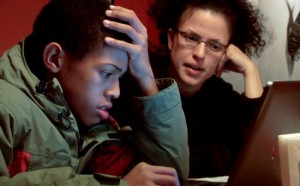 When the boys got to film themselves, they made a point to say the filming was annoying and that the movie did nothing for them. It certainly didn't offer solutions for viewers. But, maybe, that's the point.
It was a convenient experiment for the father, who ignored his child's pleas for ADHD meds for years. Not surprisingly, Idris ended up being diagnosed with it and the meds made a noticeable, positive difference. And of course, the film rakes in money for Stephenson. Not just does it pack theaters, but it also starts conversations on education and social justice—both lucrative markets. People can even pay exorbitant fees to bring in speakers.
So why offer a solution? That's like creating a cure for cancer. As Chris Rock says, the money is in the medicine.
What's messed up is that really, I'm not mad at them. In fact, I want to hold screenings (and thus, continue supporting an act of exploitation) so people can break down the shameless pimping behind the flick. It's a case study in "the game"—a behind-the-scenes look at "progressive" heroes.
That the parents don't come out looking good makes it that much better. Why let that ruin the money and the status points? The unflattering portrayal will garner labels of "brave" and "fearless." Everyone involved gets to be lauded for their sacrifice, even if in the case of the boys, it's the last thing they wanted.
I'd be bitter, but I have to give respect where it's due. Stephenson and Brewster followed the playbook step by step.
The trailer is powerful and gets people spreading the word. The film delivers on the trailer's hype, taking viewers' eyes, ears and emotions for a ride with the boys. Being that the film delves into education and social justice, it attracts the people who love to talk endlessly about the issues, buy all the trendy books and go to all the seminars. Most importantly, it plays to white guilt and the occasionally generous pockets of white people who've been told a good story.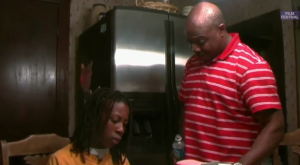 And all it required was the sacrifice of two boys' sanity.
It'd be easy for me to suggest boycotting but why? What are ethics in the grand scheme of things? After all, Honey Boo Boo's family is getting that money. Why stop a Black family from getting a piece?
If anything, "American Promise" creates a great opportunity to question the wisdom of driving our Black children crazy for the sake of social climbing with no context. It's also more evidence against passively expecting the system to work. Sure, you have to put up with tired political rhetoric and white people going on about how sad the movie made them, but that's an occupational hazard.
Ultimately, "American Promise," on the surface, is an interesting look at what happens to Black boys in white schools. On a deeper level, it's a great case study in how to squeeze the blood out of the progressive turnip.
Either way, go see it.
Pimp on, Michele Stephenson and Joe Brewster.