"Shot with a Pistol and/or Rifle"
April 16, 2012

Posted by admin

under

Musings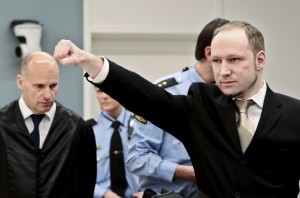 While the world, or at least the social media universe, was fixated on Coachella and the Tupac hologram, I spent the early hours glued to the Anders Breivik trial.
If there is anything that represents the "Face of evil", it's Breivik. Last year he went on a shooting spree in Norway, killing 77 people and injuring hundreds, mostly youth, at a Labour party summer camp.
Before the terrorist attack, he published a 1,500 page Christian fundamentalist manifesto, detailing why he felt it necessary to stave off a Muslim invasion of Europe. Not surprisingly, Fox News talking heads like Bill O'Reilly tried to distance Breivik from Christianity, even though their litmus test for Muslim extremism simply requires a Muslim and suspicion (If the suspicion is founded then that's a bonus).
People speculated that Breivik would use the trial as a showcase for his far right views and he didn't disappoint. He began by making a Nazi salute and then stated he didn't recognize the court because his action was part of war. According to him, the youths he slaughtered were enemy combatants. Thus, he plead not guilty.
As the judge read the names and graphic descriptions of each person's death, Breivik showed no emotion.
Personally, I have the phrase "Shot with a pistol and/or rifle," ingrained in my head after hearing it repeated 90 or so times. I lost track of all the descriptions of damaged organs. How the judge didn't spit up the glasses of water she had to keep pouring to read the sequence of events is a wonder.
To cap off the evil fest, Breivik cried when the courtroom played his "Knights of Templar 2083" manifesto video. Apparently the graphic descriptions of the murder and maiming of hundreds of people wasn't as moving as his self made propaganda.
In a country that was captivated by Kony 2012 and eventually (albeit briefly) cared about Trayvon Martin's senseless murder and vigilante justice, you would think Breivik's name would be in everyone's mouths. Judging by social media, that couldn't be further from the truth. When I switched from BBC to MSNBC and CNN, I was surprised to see they were still discussing the latest inconsequential Romney comments.
Why is that? What makes Breivik's terrorist actions different from those of all the dark skinned people the news usually focuses on?
How could the mainstream US news miss such a perfect opportunity to put a spotlight on the dangers of Christian fundamentalism? Unlike Islamic extremism, this topic hasn't come close to over saturation in the news. After all, Breivik quoted and referenced right wing US figures in his propaganda. Is that not a red flag?
I can't imagine how the same people who were moved by Kony 2012 wouldn't feel called to action to stop the rise in violent Christian fundamentalism and vigilante justice after hearing the names of hundreds of murdered and maimed people, read one by one. Perhaps I just answered my own question.