Canary Moratorium: Stop Snitching on Yourselves
April 19, 2012

Posted by admin

under

Musings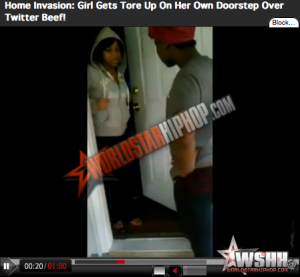 As a concerned citizen, I'm calling for a moratorium on people of color snitching on ourselves.
If social media has done anything, it has revolutionized the art of snitching. Whether it's Facebook, Twitter, Youtube, etc., people have found new and creative ways to save police and employers hours of detective work.
Perhaps the most concentrated collection of self incrimination can be found on WorldStarHipHop (WSHH). The website contains viral videos of everything from news to music to pranks. However, it might be best known as a go-to source for sucker punches and out of control fights.
Some have gone after the site's owner, Lee "Q" O'Denat, for making ignorance readily accessible. O'Denat, like Mark Zuckerberg or Jack Dorsey (Creators of Facebook and Twitter, respectively), has simply provided a medium for people to share their content. The responsibility for what people post falls on the posters themselves.
Take this video for example. Not just does this woman savagely beat another woman on camera, but her face is clearly visible and people are yelling her name throughout the entire video. If the victim wanted to press charges, it would be an open and shut case (How ironic would it be if her arrest ended up on WSHH?).
According to the description, the perpetrator was responding to a Twitter beef. Is teaching someone a lesson about his/her words, on video anyway, really worth it if it lands you in jail?
It is common knowledge that some social media sites have federal surveillance contracts and many employers use social media for background checks.
This is especially imperative to people of color, who already face high incarceration and unemployment rates. When we put things that make us vulnerable to an institutionally racist system out there for all to see, it just makes it easier for the powers that be to dismiss us.
Some may argue that their white friends brag about illicit drug use and post videos of fights and stupid stunts without worrying about finding work or getting arrested. While this may be true, the fact is that the system works different for us.
As long as there are rules on the books that say someone can prosecute you if they have video evidence of you doing something illegal or that an employer can discriminate against you for the same reason, then you will always be vulnerable.
For example, drug crime rates are uniform across all races, yet the vast majority of the people incarcerated for drug crimes are Black and Latino. What makes you think the same authorities responsible for this wouldn't use social media to reinforce these prison disparities? Think about that the next time you're watching Snoop Dogg's GGN podcast and he asks you to post pictures of what you're smoking.
I believe in personal liberties as much as the next man. However, most of us aren't Snoop Dogg, Mac Dre, or Kimbo Slice. I'm not telling you to stop doing whatever it is you do (as long as you're not hurting anyone). Just turn the damn camera off.