Album Review: NorthBound

Going into "NorthBound," I was looking for two things: voice and moments.
Admittedly, I'm relatively new to Glenn Waco, only first hearing him tear up features on Mic Capes' "Rise and Grind." Between those features, the slew of tracks he released over the summer, and following him on social media, my impression was a young MC with all the tools you look for—ill flow and wordplay, a variety of things to talk about, a good feel for how to put a song together, a sense of purpose—but still finding his voice (much like Eminem during his Infinite/Slim Shady EP days).
I was treated to the next step when I saw the Resistance—a collective featuring Glenn Waco, Mic Capes and Rasheed Jamal—perform at the NW Hip-Hop Fest. They broke into his track "Third Eye" and next thing I know, Glenn Waco was rocking in the middle of the crowd. Ash Street Saloon was going crazy (on a side note: my girl had a crazy idea that she was going to take pictures from the floor and almost got stampeded like Mufasa when the song came on). It was the moment that set the bar for how I would see Glenn Waco from then on.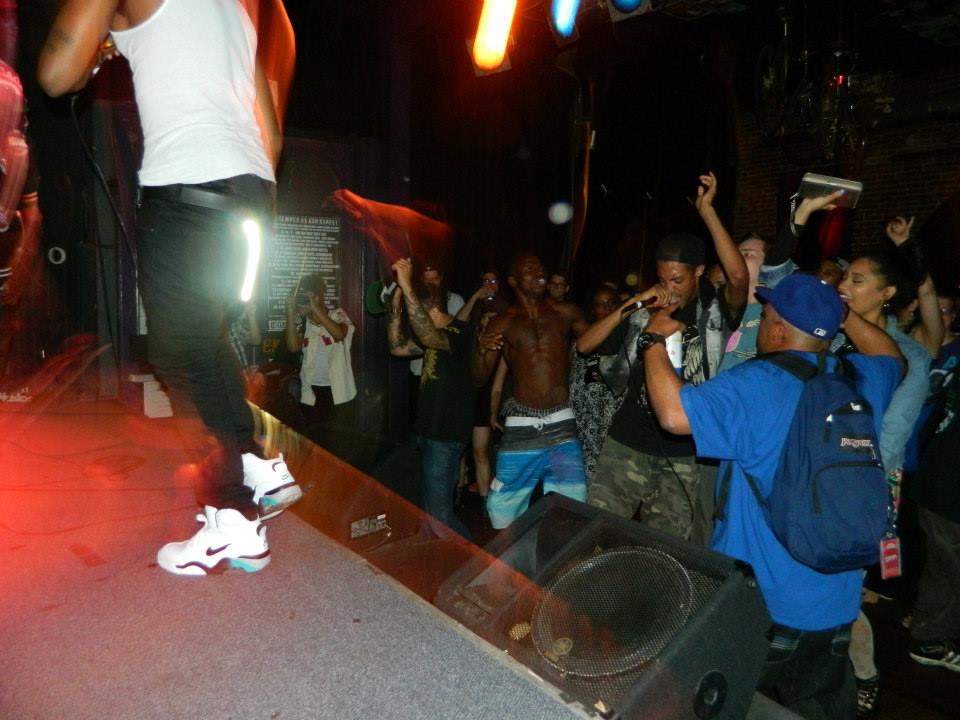 Judging by the tracks released during the summer, I already knew I could expect dope lyrics and beats from "Northbound," but I was really yearning for that feeling—that experience—from NW Hip-Hop Fest.
While the album starts off on a high note with the first single, "Interstate," and "The North Face," blessed with a feature from Vinnie Dewayne, things kick into another gear with "Bottle N' a Sac," a collaboration with Blakk Soul, produced by LunchTime Legends. The combination of introspective lyrics, soulful vocals and smooth production results in a track I've had on repeat since I first heard it.
This combo somehow manages to top itself later on in the album with "Humble." Leading in with a Tupac quote and Glenn Waco reflecting on his little sister, who was hit in a car accident earlier this year, Glenn Waco delivers on a heartfelt, artistic moment. "Humble" is the kind of song that will make you grab someone, stop whatever they were doing, and make them vibe with you (I did). Simply put, it's beautiful music.
While "Bottle N' a Sac" and "Humble" steal the show, there are more than enough other standout moments to get your iTunes play count up.
For example, wordplay, rapid-fire flows and introspection mesh together perfectly when Glenn Waco and Mic Capes trade verses on "Paradise." The beat, produced by Neph, takes listeners on a journey, ascending through the clouds. Glenn Waco delivers the line, "I don't idolize people. I idolize ideas."
It's this mentality that best sums up the album. Glenn Waco has no problem taking the backseat so other artists, and even strategic samples, can shine.
For example, the most memorable part of "Carpe Diem" is actually a clip of Tyler the Creator breaking down art and controversy.
Resistance cohorts Mic Capes and Rasheed Jamal get theirs on "H.O.L.," "G.A.M.E.," "Dojo," and the aforementioned "Paradise."
Felicia Taylor delivers on "Crush," "Aquarium," and "Scars."
Last but not least, Tiara Monique comes through on "Summer Madness," a Portland take on the Fresh Prince and Jazzy Jeff's "Summertime."
Glenn Waco shows he can carry the load on his own with standouts like "Bad Kids," and the aforementioned "Third Eye."
The only real misstep on the album is "G.A.M.E.," which doesn't add up sonically for me. The verses are cool. The beat is cool. But they don't fit the way they should. It also creates an awkward lead in to "Crush." While "G.A.M.E." is more cynical, "Crush" is a flowery love song.
Admittedly, "Crush" took me several listens and it wasn't until I listened to it on its own, that it started hitting. Sequenced after "G.A.M.E.," it was hard to not look at "Crush" with the cynicism of the previous song.
While some songs, like "Bad Kids" and everything produced by LunchTime Legends, might have more immediate replay value than other tracks, the whole album invites you to keep digging for new things.
It doesn't hurt that there are a variety of soundscapes on "NorthBound." The aforementioned LunchTime Legends, Plan Z, Tae Beast, Bryce Lang, Stewart Villain, Packard Browne, Timeless One and Neph all hold their own without the diversity of sounds feeling forced.
As I said earlier, I came in looking for voice and moments. Glenn Waco sounds most comfortable when he's being introspective. It's no coincidence these songs provide the artistic moments that make you hit repeat.
Whether Glenn Waco is giving you something personal, a track about relationships, or just reflecting on growing up in North Portland, "NorthBound" has something for everyone.
In this age of Bandcamp, I'd put $15 on it.